George and Jean's Tandem Tours
Since 1999 we have made at least one longish tandem trip each summer. On these web pages we describe them with photographs and a diary. They include eleven trips in France, two in Netherlands/Belgium, four in Scotland and two in Ireland. We've also done many in England, of which two are recorded here. The links and maps below will take you to the descriptions.
We find cycling much the most enjoyable way to explore a country. The use of a tandem makes the trip companionable and ensures that we both arrive at our daily destination with roughly the same degree of exhaustion – which is remedied by a hot shower and a shared bottle of wine at dinner.
We started tandem touring on a conventional Dawes Galaxy touring tandem, but in 2005 we acquired something radically different: a custom-built tandem based on a Moulton APB. See this page for more details.
The pattern for these holidays is now well-established. Here are the main features of our tours in France:
We stay in bed and breakfast (chambres d'hotes) where possible and in one- or two-star hotels elsewhere.
Luggage is kept to a minimum – one large pannier each for clothing and a couple of smaller bags for picnic supplies and other necessities. (Our new Moulton tandem has equivalent luggage capacity distributed more evenly and slightly more coveniently, see the picture below).
Detailed route planning is done on a day-to-day basis using pages taken from a Michelin 1:200,000 or similar road atlas
Accommodation is reserved in advance only when there is likely to be strong demand (generally at weekends and in seaside resorts).
Daily distances are in the range 40-120 kms (25-75 miles), depending on the terrain and our desire to allow sufficient time each day to enjoy the sights of the many towns and villages that we pass through.
We often use the European Bike Express to take us to the starting point and pick us up from the destination.
In France
Click on a tour in the map or use the table below it to view the illustrated diary of a tour.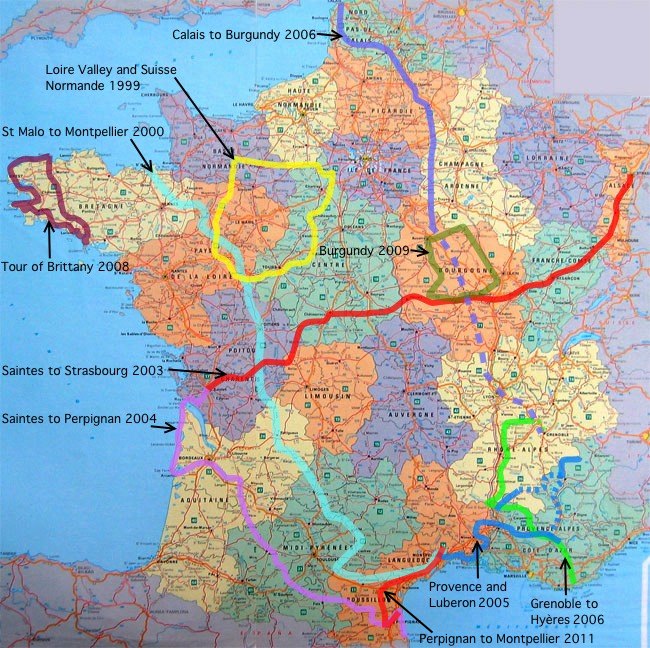 ---
In Holland and Belgium
In Ireland
In England and Wales
We have done quite a few tandem tours in England and Wales, but these are the only ones that are documented:

August 2004: Newcastle to Berwick-upon-Tweed

Following the Sustrans Coast and Castles Route. This journey very nearly completes our goal to cycle the entire East coast of Britain.
---
Our tandem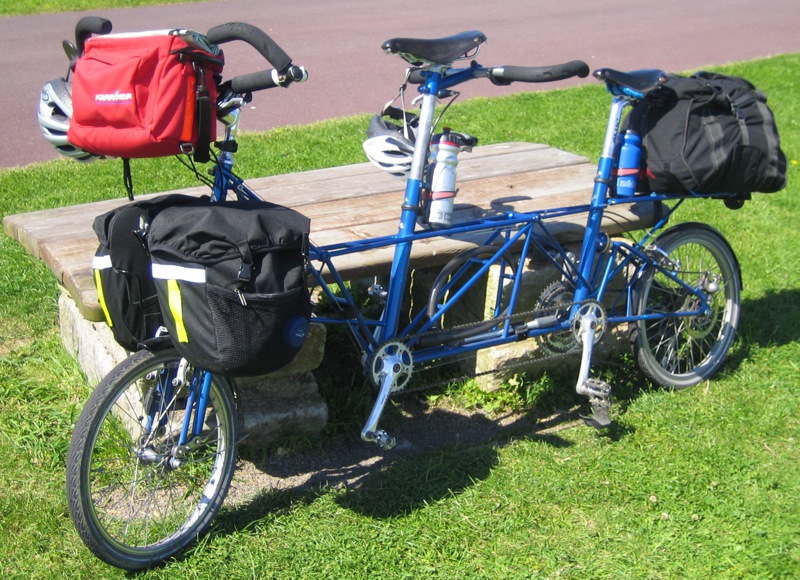 In June 2005 we took delivery of a custom-built Moulton APB-based tandem. A full description of the tandem and the project that led to it is available.
We believe it to be the first separable-frame Moulton-based tandem constructed in the UK as well as the first to be based on an APB. We decided to undertake this project following 15 years in which we have used Moulton AMs and APBs for almost all our cycling but had to revert to a conventional tandem (a Dawes Galaxy) for extended touring holidays. After several years of holidaying on the Dawes Galaxy, we decided that we would like a more comfortable and transportable tandem, while retaining the durability and efficiency of the Dawes. Alex Moulton's space-frame design and suspension seemed to us to offer a very good basis for a comfortable and rigid tandem that could be separated for ease of transport, especially on the many UK train lines where conventional tandems are now banned. We are delighted with the ride, performance and general usability of the tandem.
---