France by Tandem, September 2006
The original grand plan was that G and J would spend a month cycling from Calais to Bologna during September and early October 2006 and that George would return on his own in November to continue the ride from Bologna to Brindisi. We planned a break in our first stage: a five day stay with our friends Xavier and Claudine in Grenoble, allowing 13 days cycling and one day off (in Auxerre) between Calais and Grenoble, then 10 days after. But as will be seen, we were prevented from carrying out this plan. However we cycled through the WW1 battlefield areas in Nord Pas de Calais and Picardie and then on through the attractive Marne area and on to northern Burgundy. After that we then used a train to get to Grenoble.
Before leaving home we made a list of places to stay from the Gîtes de France Chambres d'Hotes website for use when outside towns. We rang ahead each morning before setting out. In the towns we stayed in hotels.
Day 1: Wednesday September 6th
We caught the 9.53 train from Charing Cross to Dover so as to get the 12.15 Sea France boat (£24) to Calais. This was an enormous boat and the sea was very smooth.
On arrival in Calais, we left the ferry, rode up a ramp and found the bridge to the town centre was closed, so were diverted on to a longer route beside a factory railway. We were going rather fast to get out of Calais as soon as possible. The railway track crossed diagonally over the road and we were forced to turn at too steep an angle because a car was too close and then we fell off.
A young french couple (and others) stopped. The young couple moved the tandem and sprayed our wounds. George's collar bone was hurting badly and when he passed out, they called the Sapeurs Pompiers (who we had thought were firemen, but, as we found out, they also act as the ambulance service). After a long wait for the police to collect the tandem, they took us to hospital. The X-ray showed a small break in George's collar bone; the doctor proposed putting on 'anneaux' but when George was told he wouldn't be able to ride a bike, he rejected them, but accepted the prescription for pain killers. Jean just had grazes on elbow and knee.
| | | |
| --- | --- | --- |
| | | |
By about 6pm we got away from the hospital and walked into the Centre of Calais and stopped to admire the (almost Victorian gothic) Town Hall and Rodin's Burghers of Calais in front of it. We booked into the Ibis Hotel because we couldn't see any other hotels. We later found the 'touristic centre' where we had a meal with cider in a creperie.
Day 2: Thursday September 7th. To Hucqueliers. 52KM
After a buffet breakfast at the Ibis, we went to the police commisariat to collect the tandem, which was in excellent condition, apart from the bell. We set off very gingerly towards Guines and when we got there, George said he felt OK to continue with the help of the painkillers. We bought picnic food and stopped at a good viewpoint between Boursin and Coulembert. This was followed by a coffee in a café at Desvres, a pottery town.
We arrived at our B and B, Le Clos, in Hucqueliers at about 4.15. Le Clos is a big white classical-looking house built in about 1800 with a good garden where we sat and read. Our bedroom is a pleasant room in the attic with rafters. We had a meal at Auberge d'Hucqueliers where we encountered too many English guests.
Stayed at: Bertin, Le Clos, 19, rue de l'Église, 62650 Hucqueliers. 03 21 86 37 10
Day 3: Friday September 8th. Hucqueliers to Anzin Saint-Aubin. 87 km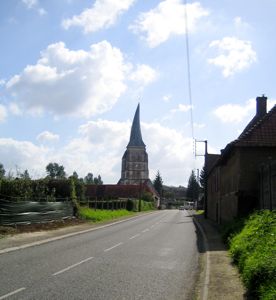 After a session of browsing through our landlady's Gite de France Guide we booked a room and meal in a B and B at Auzin St Aubin near Arras. The B and B at Penin was full, so we needed to go rather further than we had hoped.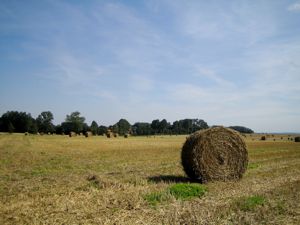 The day was fine, but cool. We left at 10 am, rode via Ergny and Verchocq, passing through fields of maize. We bought lunch in Frouges, passed close by the site of the battle of Azincourt. We paused at Verchin to look at the church which has a bent spire. Lunch after Humerouille. We kept passing and being passed by farmers moving big bales of hay. We followed the valley of the river Scarpe to Anzin Saint-Aubin which is inside the Arras ring road. We stayed with Philippe and Patricia Rousseau in a comfortable room at the top of the stairs with bed, desk etc and bathroom. Philippe cooked a good meal with red Bordeau wine. We were very tired and fell asleep very quickly.
Stayed at: Philippe and Patricia Rousseau, LesVolets Bleus, 47, rue Briquet Tailliandier, 62223 Anzin Saint-Aubin. 03 21 23 39 90.
Day 4: Saturday September 9th. Anzin Saint-Aubin to Péronne. 65 km

After a good buffet breakfast, we booked into a hotel in Péronne, then set off to look round Arras.
Arras
Click here to see photos of Arras
The town of Arras has two big squares, the first (Grande Place) has a very extensive market. Each square has rows of identical neat gabled houses on each side. We found a good plave to lock up the tandem under the arcade in front of the very impressive gothic Town Hall.
We visited the Bores - subterranean passages (named after the Latin word for mouth). These passages are cut into the chalk. There were quarries in 12th C and later, but they were abandoned, apart from being used for storage (it's cool down there). During WW1 the army hid down there and then extended the passages to get behind the German lines on the east of the town. NZ troops dug the tunnels. During WW2, people hid in them.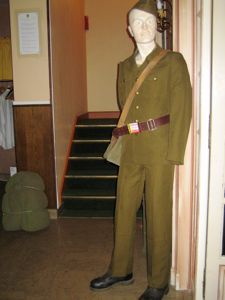 After the Bores, we went (by lift) up a very high belfry of the Town Hall and were rewarded by a view over the town and further. Then a quick look round the 19 C church which has a painting by Peter Paul Rubens.
After leaving Arras we passed many WW1 cemetries, had picnic at Hamelincourt and went through the battlefield of the Somme. The battle of the Somme which lasted from July to November 1916, was among the largest battles of the First World War. There were more than 1.5 million casualties.
We followed the ramparts and thenentered the town of Péronne via the old castle and soon found the Hostellerie des Remparts, (2* Logis de France), where we were shown to a good room. The war history theme is emphasised by a figure of a soldier in the entrance way (photo on left). The Town Hall is shown on the right.
The museum Historial de la Grande Guerre is within the walls of the old castle illustrates the stages of WW1, which was so prominent in the hsitory of this area of France. Over several years a stalemate existed between the opposing sides. The information outside the museum indicated the numbers of soldires from each participating Allied Country killed in WW1. We were shocked by the numbers of Australians and New Zealanders considering they had come right across the world.
During our evening meal we chatted with a couple from Melbourne who had come over to see Aussie war graves.
Stayed at: Hostellerie des Remparts. 21 rue Beaubois, Péronne. 03 22 84 38 21

Day 5: Sunday September 10th. Péronne to Laon. 91 km.
Laon is a small hilltop town which is visible in the distance from the autorout. We had spotted it several times when we used to drive to Grenoble. In planning this trip, we were determined that Laon should be on our route. We leaft Péronne soon after 9 am and arrived in Laon at 5pm. Today's route followed the River Somme out of Péronne (photo on left below). We crossed the river twice and eventually moved away eastwards in a line following the Canal of St Quentin which joins the Somme somewhere near the village of Ham.
We were amazed to find a small town with the name of 'Y'. We then bought lunch in Ham where most of the shops were closed, but we found an active bakery where we purchased good tourtes from a bakery where the staff seemed very happy, particularly when selling gateaux.
The photo on the right above shows the good picnic place by the Canal of St Quentin where we watched a sailing boat on the way up the lock.
We encountered a children's cycle race at Beautor before toiling up a very big hill into the village of Saint-Gobain where passed a big glass factory and then stopped for an ice cream at another very friendly bakery. During the industrial revolution, people in Saint-Gobain started making glass and developing new techniques for its manufacture. The business expanded world wide, but is known by the name of this village.
We had a very enjoyable ride through the attractive forest of Saint-Gobain, leaving it to Cessieres on the eastern side. Then we rode a long flat road to the outskirts of Laon. Finally we had to mount an immense hill into Laon. The Hotel la Bannière de la France was just at the top on the left, on the verge of the old town. The hotel building is about 300 years old and the welcome was friendly: parking the tandem seemd a normal requirement.
The town of Laon is in three parts clustered on a hill: the City with the cathedral on a plateau at the very top, the Bourg area which includes Town Hall and a third area. We wandered into the City (the old town) to see an enormous flea market which seemed to occupy all the streets. We sat in front of the 12 C cathedral Notre-Dame de Laon, admiring the beautifully carved doorways and feeling amazed by the carvings of cattle beneath the arcades on all of the (five) towers. We heard a story of a bull that helped a team of horses to bring stone up the hill to build the cathedral. We went inside the perfect early gothic building which has absolutely consistent style throughout. We enjoyed the blue stained glass and the rose window. But the most impressive thing about this cathedral is the very light coloured stone which enhances the interior light.
Click here to see Photos of Laon
Day 6: Monday September 11th. Laon to Abbaye du Val Chrétien. 60 km.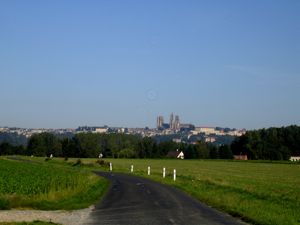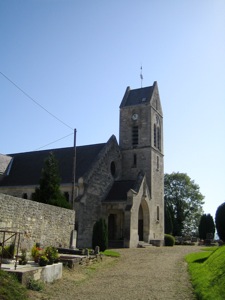 A hot day. We spent an hour looking around Laon, savouring the views from various points on the ramparts. We entered the cathedral again: the rose window with sunlight through it looked much redder than yesterday evening. The other windows still looked very blue. The vaults on the crossing are impressive.
We set off at 10.30 down a steep hill from the south side of Laon and through Aden, where we stopped to look back at views of Laon cathedral over the town. We passed through Presles up a big hill and through some woods to Monampteuil - a perfect village - very quiet (see the photo on the right of the church where we rested).
Then down a hill through forest to the small agricultural town of Vailly- sur -Aisne where we bought sandwiches at a bakery and then had a picnic on the banks of the River Aisne under some willow trees. We're still in the area of Picardie (which we're told = Somme + Aisne).
We crossed the Aisne and then a parallel canal (probably linking the Aisne to another river in the network). We continued going into the commune of Braine where we bought an evening meal at the Champion supermarket. After the villages of Augy and Arcy-Ste-Restitue, we had been getting very hot and stopped for a rest in a forest. Then we went on via Rigny and Cramaille to our B and B, the Abbaye du Val Chrétien.
We found the entrance to the Abbaye du Val Chrétien just after an arch under the railway, it has big grounds on the edge of a little river in an idyllic setting. It is a ruined abbey, built in C10 and damaged during the 100 years war. A frenchman and his japanese wife run a Chambres d 'Hotes and try to use the building for French/Japanese activities, but are planning to sell up. They say there's too much to do to keep it maintained. They normally provide a meal, but it's their daughter's birthday today (she was born on 9/11/2001). It's a real pity they're selling the place - it has a brilliant atmosphere. The photos below show the entrance, the bedroom and some of the builings.
Stayed at: M. Sion, Abbaye du Val Chrétien. Bruyeres sur Fère. 03 23 71 66 71.
Day 7: Tuesday September 12th. Val Chrétien to Villiers St George 84 km.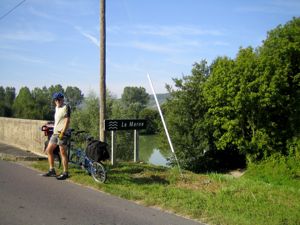 Our next destination was supposed to be Nogent-sur-Seine, but we decided to stop short at a farm in Villiers St George (we had somehow miscalculated the distance as only 69 km). We had anyway been getting a bit tired and George was having to be very careful not to disturb his injury.
Another very hot day, but we went through many woods and later on it was slightly misty, so not we were not too hot. We crossed the River Marne (photo on left) and gather we're now in the Depatment of Marne. We missed going to Provins (our hosts tell us we should find out more about it and go sometime).
All through the day, we passed through lovely landscape: lots of woods and later on, big wide fields, mostly ploughed. We shopped for lunch in Condé-en-Brie - it has the very pretty River Dhuys, a 17th - 18th C chateau, a market hall and a church. (See the photos below).
We had a picnic in woods by a lake soon after Artanges, then coffee in the square at Montmirail. The gig hill down from Montmirail provides great views. We were surpised to see a small oil refinery soon after Montmirail. We found a good quiet road which passed on the west of Esternay.
The B and B at Villiers St George is on a farm. They offered us a family meal. They are a very nice family Brigitte (mother), twins nearly 13 (Alban and Amélie). who want to come to stay with a family in England. The father is a vegetable farmer who is very busy fertilising the fields (engrain).
They make their own cider which we drank with a meal of courgette soup, stuffed vegetables and preserved cherries.
Nice sunset walk around fields.
Stayed at: Moisseau, 40 rue de Nogent, Villiers St George.
Day 8: Wednesday September 13th. Villiers St George to Estissac 62 km
Our destination for today was supposed to be Auxerre (another 82 km beyond Nogent sur Seine, which we would reach early today). But we decided on two short day rides with a rest day after the second of them, and consequently to arrive
a day behind schedule at Grenoble.
After an excellent breakfast, we took the photo of the farm (on the right) then set off through lovely countryside which was punctuated by beautiful stone villages.
We stopped to look at the church at Beaucherey (shown on the left).
Nogent-sur-Seine
Nogent-sur-Seine is an old town set on a bend of the River Seine. On arrival, we crossed a bridge and saw in front of us the Moulin Sasso, a very fine 19C industrrailised water mill which stretches across the river between one bank and an island.
We left our bags at the tourist office while we walked around. The church Eglise St Laurent was interesting - decorated on the outside, paintings and sculptures inside.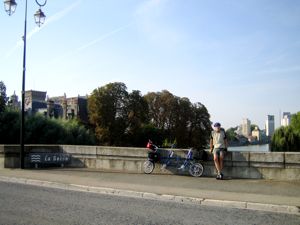 We walked round the town. We saw the Maison Flaubert, where the novelist Gustav Flaubert wrote L'Éducation Sentimentale - the story of a young man (in 1869); it's now a bank. The Maison Claudell is where Camille Claudel the artist and her younger brother (French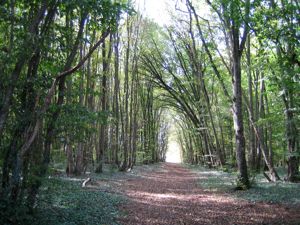 poet and diplomat), Paul Claudel lived during their childhood.
The Maison de la Turque is a house once owned by a Turkish woman which served as inspiration for Flaubert in his L'Éducation Sentimentale. The photo on the right is of the bridge over the Seine.
Click here to see more photos of Nogent sur Seine.
On leaaving Nogent-sur-Seine, it was difficult to get on to the small D54: we had to make several tries. After that, we soon stopped for a picnic in a very peaceful wood of small saplings (photo on the left). After lunch, ee slept for a long time as we thought there wasn't much further to go.
We made a false start after a rest stop - G went, but J didn't: apparently only a minor event. However it did result in an increase in pain for George. A few minutes later, G's cleat stuck, so we had to stop to fix it. Then the headwind became strong and it took us a very long time to arrive in Estissac,where we were disappointed to realsie that the B and B was on a Route Nationale sweeps past the village.
However, the B and B turned out to hasve a big garden with a swimming pool; and at the end of the garden there are woods and a stream. We have a nice self-contained room in a the garden with good views from its many windows.
Estissac has an old centre with Market Hall, Mairie and church. We had a very good meal in Restaurant Maxine in a hotel. Walk back on poor footways and too much traffic - the potentially very pleasant village of Estissac is ruined by roads.
Stayed at: Karlowski, Estissac, 03 25 40 67 01
Day 9: Thursday September 14th. Estissac to Neuvy Sautour 34 km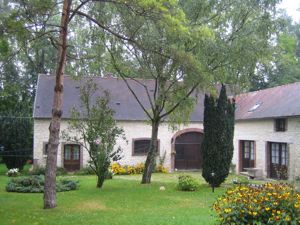 We were still planning to have a rest day on Friday, preceded by a short ride today. So we didn't hurry to leave Estissac. Once we had left the town, we were in pleasantly wooded countryside. We stopped to shop in Aix-en-Othe (Othe is the name of another region). We arrived at about 1.15 at our B and B and had a picnic in the garden.
La Grange du Boulay (photos left and right) consists of a group of several stone buildings, with the original dark red tiles on the roofs. However, the interiors are totally renovated. Two wings are used as Gites and one for Chambres d'Hotes. The owner lives in the main house, where we had breakfast each day. We spent the first night in the B and B wing and the second night in a small gite. There's also a swimming pool for guests to use.
Mme Gron lives in Paris, but came down on Thursday evening to make our meal, which was preceded by an aperitif with the caretaker (who looks after the house when the Grons are in Paris). The meal started with soup (lentil and lardons), which was followed by a salad of cold ratatouille (very small pieces), then jarret de veau with tomato sauce and pasta, cheese, yogurt, and finally, apricot pie with very light flaky pastry.
Stayed at: La Grange de Boulay, Christiane Gron, 4 Chemin Haut des Chevaux Doux, 89570 Neuvy-Sautour
Day 10: Friday September 15th. Still at La Grange de Boulay (rest day).
Today we decided to abort the plan to cycle on to Grenoble because G's collar bone has again become very painful. We went into the nearby town of St Florentin (only 7km away) to look around while we were working out what to do next.
St Florentin is on the top of a hill: it towers above the canal de Bourgogne, which crosses the river on an aqueduct. The centre of this small town consistes of old buildings on winding streets. The tall church is 16-17C. The stained glass is from the Troyes school, in a consistent style and highly coloured (photos above). This is the best stained glass (in terms of imagery) that I have ever seen. There are lots of little pictures telling stories with some added text; possibly influenced by Durer. There's also good sculpture in the church. We had to get the key from Tourist Office and return it after a rather short time period as they were about to close for the rest of the day.
We phoned Xavier and Claudine to ask whether we can go straight to Grenoble. He has a broken arm, so can't collect us – it would be rather a long way to drive anyway. We went to the Tourist Office for advice and were told that St Florentin has a main line station and that there is a train tomorrow at 17.35 with a change in Lyon: we'll arrive in Grenoble at about midnight.
Mme Gron wasn't able to provide a meal so she very kindly drove us to a restaurant in a nearby village for an evening meal and then collected us when we had finished.
Day 11: Saturday September 16th. La Grange de Boulay to Grenoble by train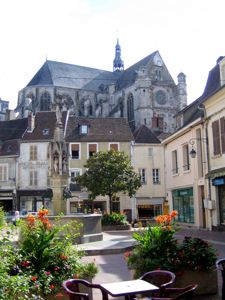 At breakfast, Mme Gron told us about the Abbaye de Pontigny. Shen suggested that we should spend the morning there and then offered to drive us there and to pick us up again after she had done her shopping. The Abbaye has an impressive collection of mediaeval buildings dating from the 12th C, which include a gothic church which is as big as most cathedrals. The Abbaye de Pontigny is illustrated in the photos above.
In spite of having many friends for a barbecue lunch, the Grons allowed us to remain in the garden until it was time to leave to catch the train. They were very hospitable. We'd like to return there one day when we're in better shape.
We set off earlier than necessary to St Florentin and when we got there, sat in a café below the church (photo on the right). Then when it was time for the train we rode to the station which is well outside the town. Theoretically we had a ticket for the tandem, but fitting it in the train was a bit tricky. It just fitted across the train at the end of one of the coaches. The guard suggested 'cutting it in two', which we could have done. However we didn't feel up to manhandling a separated tandem.
The transfer at Lyon worked OK and we managed to squeeze the tandem into a suburban train to Grenoble. During the ride across town of Grenoble we concentrated hard on missung the many tram rails. We were greatly relieved to find our frinds still awake on our arrival.
The total distance cycled on this trip was about 550 kms.