Tandem Tour 2004:
Saintes to Perpignan

The European Bike Express took us and our tandem from London to Saintes and then picked us up from Perpignan 19 days later and returned us to London. From Saintes in the Charente we went via Aquitaine, through the Midi-Pyrenees to Rousillon, a total distance of about 900 kms. The last six days were spent in Perpignan and nearby. We were fortunate in having a little wind assistance almost all of the way. The temperatures were cooler than they were on our 2003 trip, so we didn't have to start very early in the mornings.
We stayed in a variety of chambres d'hotes and hotels, most of them pretty good, but our favourites were: at la maison des Ramparts in Vianne for the friendliness of the hosts and the character of the building, la Bastide in Francon for the pool and the magnificent food and the ferme-auberge at Foix for the view and the buildings.
As usual, we aimed to avoid N roads altogether and roads marked in red on the map as far as possible. Our journey took in a good variety of attractive scenes, but our best days were on the tiny D1 from Foix to Lavalanet, the cycle path through the pine forests on the Atlantic coast and the road through the gorges on leaving Quillan. But altogether the best sight of all was the gorges of Galamus near St. Paul de Fenouillet.
We have provided some details of roads followed each day in case others want to follow the route.
June 30th London to Saintes
We took the European Bike Express from South Mimms, leaving at 11 am and getting to Saintes about 3.30 am the next day. As usual the staff were very friendly and helpful. We had a convenient evening stop just at the right time for a quick meal.
July 1st Saintes to Montalivet les Bains
Our photographs of Saintes and its surrounding area, Saintonge are here.
The beginning of our first day had its ups and downs - first we arrived one hour early (3.30 am) at Saintes and were pleased we would have extra time in the 'formula' hotel. But both hotels at the bus stop were full up, as were the only two in the centre of town that answered their bells.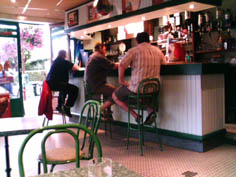 So we found platforms open at the SNCF station and had a 'sleep' on some very hard wooden-slatted benches until the first train woke us when it came in at 6.30 am.
The remainder of the day was brilliant, apart from being 'doored' by a man in a fourgon (small van) - no damage – and then having a puncture. Fortunately it was market day and we found a bar to have excellent coffee, croissants and orange juice.
On our previous trip, we had set off quickly on our day's ride without looking at any of the sites of Saintes. This year we were determined to see what Saintes has to offer. It was well-worth waiting for the town to wake up, as we saw a fine collection of romanesque churches and a roman arch and an amphitheatre. Most of these churches are about 800 years old, they have round arcaded apsidal ends and octagonal towers and they generally have beautifully carved fronts.
Our ride to the coast of the Gironde estuary went through many villages with romanesque churches including Rioux and Cozes. In Cozes we rested in the market hall and spoke to some 'pilgrims' heading for St Jacques de Compostelle.
By the way, the Gironde is just an estuary - with no river (actually the Dordogne and Garonne discharge into it).
Picnic lunch on the beach at Talmont, which is a small car- less enclosed town built by Edward I in the 12th century with a lovely romanesque church on a promontory right by the sea.
The town of Royan was rather awful, we caught glimpses of the silhouette of a very strange looking cathedral - we were later told it was designed by Le Corbusier.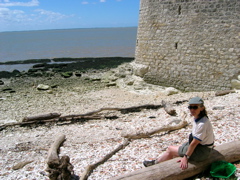 We took a ferry across the Gironde estuary to the peninsular at Le Verdon-sur-Mer. We soon found the beginning of a lengthy cycle track - entirely off road through pine woods, close to the sand dunes and Atlantic beaches. We discovered the next day that it goes on for about 100 km to Cap Ferret. Night in hotel Ocean in resort of Montalivet-les-Bains - too late for a swim. Today's distance 89 km.
Route details - Saintes – Arces – Talmont then D25 to Royan, Ferry to Le Verdon-sur-Mer then onto the newly-relaid cycle track along the coastline as far as Montalivet-les-Bains. (See www.tourisme-gironde.cg33.fr for detail of the excellent network of cycle tracks in the Gironde region.)
Friday July 2nd Montalivet-les-Bains to Cap Ferret
Our photographs of the Gironde area, which we travelled through on Friday and Saturday are available here.
The entire ride this day was on a cycle track in the pine forests, mostly close to the shore. A drawing pin got into our front tyre within a few minutes of setting out, but after that, all was peaceful riding through the forest, getting glimpses of the shore. A large area of France south of the Gironde estuary was originally marshy, because it is sand with hard sandstone below and no ability to drain. But in the time of Napoleon III the pine trees were planted to dry it out. People that spend time there say it's rather boring, but we really enjoyed a car-free day and the scent of pines.
Most of the track was well asphalted, occasionally we used a share of the 'forest road'. A few remaining un-modernised tracks are very narrow e.g. like a 1 foot wide piece of paving - we didn't dare try those on a tandem.
The track is mostly close to the Atlantic Ocean with its big sandy beaches, sand dunes and people surfing. We noted that cars must park a long way back from the beaches and most of this coastline is unspoilt.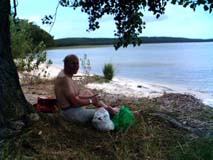 We stopped for a coffee in a bar in Hourtin Plage and bought our fruit at the shop opposite.
There are some very large fresh water inland lakes - the biggest is Etang Hourtin-Carcans - we stopped for a swim there and a picnic at deserted beach on its shore. It is very shallow - you have to walk a long way to swim.
Cap Ferret was not what we expected. George says it's like the Florida Keys. There are large areas of comfy villa-like houses with large gardens with mature trees. The roads are wide with sandy footpaths - not much good for walking.

We had a meal by the basin overlooking the water and oyster beds. Across the water we could see Arcachon and its giant sand dune.
Distance today 96 kms. Chambre d' Hote: Francoise and Patric Archambaut, les Cormorants, 2 bis Rue des Cormorans, 33970 Cap Ferret Ocean. 05.56.60.66.78
Route details- we used the cycle track parallel to the shore past Carcans Plage, Lacanau and la Gresse, just diverting for the Lac d' Hourtin.
Saturday 3rd July Cap Ferret to Léognan
We cycled to the point at the end of Cap Ferret and then came back in time to get the little ferry across the basin to Arcachon - this was a very small boat captained and crewed by a woman on her own, who had to tie it up without assistance and then help us get the tandem on board across the bows.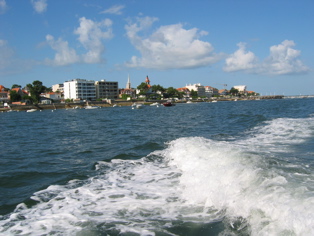 We were not impressed with the little we saw of Arcachon, but others tell us they like it. We stopped for coffee at le Teich and then phoned Philippe Meyer. George had met Philippe over the email. When George bought a Moulton bike from him, he had said: 'get in touch if you ever come my way', so we did. He came out to meet us for lunch at Marcheprime and then accompanied us through the vineyards of the Graves on his recumbent to his home in Léognan where we met his wife Nicole and stayed for a lovely tea a long and friendly chat. Eventually Philippe accompanied us to the hotel Campanile on the Bordeaux ring road at Gradignan - Campanile is not our usual style, but this day we couldn't find anything else near Léognan.
Distance today 72 kms.
Route details- ferry Cap Ferret to Arcachon, D650 to le Teich, Then N250 to Marcheprime, Pierroton. Cross on D28 and minor roads through Cestas and Léognan. Then later on back streets to Gradignan .
Sunday 4th July Gradignan to Hure
Our photographs of the Garonne area are available here.
Philippe turned up early with one of his cycle club friends Annie (driver of bendy buses), both of them on Moultons. They led us via a series of quiet streets to the Garonne river. We followed the river Garonne, but had some interesting stops - one at an animal cemetery and another in a little park which was once the garden of a big house and had a fountain with extraordinary sculpture. We stopped for a mid-morning coffee at a bar in a building with strange chimneys at Beautiran and then Annie had to go back to work.
Philippe came with us as far as Cadillac where we had a picnic lunch in a bar. Cadillac is a bastide town with medieval walls and an the 15th century gothic church of St. Martin. Beside the river is a water level guage showing the levels to which the flood water rose over the years.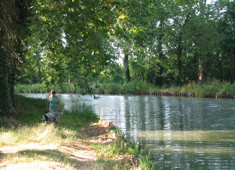 The day was getting very hot but we set of via Langon, intending to reach Marmande for the night. Having crossed back over the river at Langon, we went on a very small road through small villages. One of them was cordoned off with plastic barriers; we were signalled through and were passed by some very sporty cyclists - each time we passed a group of people, they clapped and cheered - we had got mixed up in a local cycle race of some sort.
We stopped at a shady café for a cold drink in the village of Hure finding ourselves in the midst of an English enclave - people who have house here or in the nearby village of Meilhan. The bar - 'Twelve Bar' is run by Sandy – an englishwoman. She negotiated for us to stay the night in Nicola's spare house next door to the bar. Nicola's house is an amazing old timber beamed open-plan village house full of her collection of objects and paintings and photographs. As a result of a conversation with the locals and advice from Heather, we planned a change in our route - we had planned to continue to follow the Garonne as far as Agen before turning south for Auch, but they advised us that Agen and Marmande are not particularly interesting and it would be better to go via Nerac.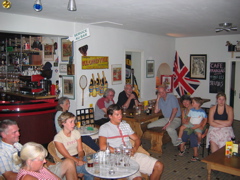 We walked beside the nearby canal (Lateral à la Garonne). We had fish and chips and watched the final of the European Cup (Portugal v Greece) and had chocolate brownies for dessert.
Distance today 73 kms. Route details- Gradignac to Villenave d'Ornon on minor roads. D108 Cadaujac, St. Medard. D214 Ayguemortes, Beautiran, Podensac. Then to Ceroons and over bridge to Cadillac. D10 Loupiac, St Croix, Langon. Back over river D224 all the way to Hure,
Monday 5th July Hure to Vianne
Our photographs of Vianne are available here.
We awoke in Nicola's house - pictures everywhere. We admired the very fine dining area with the giant table before locking up. Breakfast in the square under the plane trees (croissants and pain-au-chocolat from the local baker, orange juice and nectarine).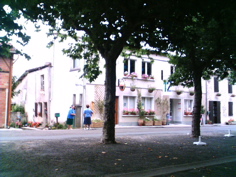 Set off via Meilhan and stopped at Cocument for coffee. Then on to Bouglon and Castellajou, where we bought our picnic food. So far we had been riding through vineyards, but suddenly we were back in the Landes - with trees everywhere, mostly pines. We were aiming to get to Nerac, but we turned off for the viewpoint at Xantrailles and then decided to go on to the bastide town of Vianne. The chambre d'hote was set in the town walls - we rang the bell and they said they had a room.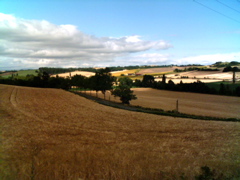 Vianne was built in 1284. Eleanor of Aquitaine first married Louis VII - when he divorced her, she married Henry 2 plantagenet, so England acquired Aquitaine. When she died, the English built the bastide towns to protect them from the local french. Vianne is a particularly fine unspoilt example, completely surrounded by walls with gates on the four sides.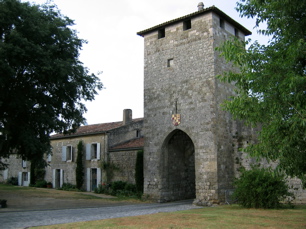 We walked by the navigable river Baise which is just outside the town walls. Later in the evening we met people in the restaurant who had cruised From Condom via Nerac and were planning to continue to the Canal Latéral à la Garonne.
The hosts came here from Nantes two years ago when they retired. They came to buy a lamp, but ended up buying the house. The house walls are 700 years old. At breakfast they asked whether we eat what sounded like 'ordure', but when we thought harder turned out to be 'oeufs durs'. It was fortunate we figured this out as the eggs were a welcome addition to our picnic. The hostess paint faces.
Chambre d'hote Luce and Roger Bernard, la Maison des Remparts de Jourdan, Tel 05 53 65 16 57.
Distance today 60 kms. Route details - D224 Hure to Meilhac, D264 to Cocument, D147 to Bouglon, minor road and then D252 to Castelajou, D655 to Carret du Placiot, D141 Xantrailles and Vianne.
Tuesday 6th July Vianne to Auch
Our photographs for the next three days, which included the towns Nerac and Foix are available here.
Set off from Vianne to Nérac, which has a very attractive riverside with an old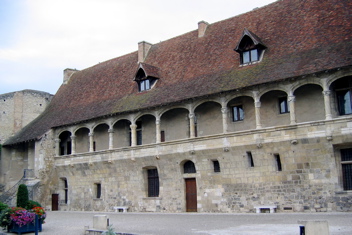 bridge, as well as the chateau of Henry IV – a fine renaissance building from the 14th century. Inside we studied the history of the Albret family which was involved in the development of protestantism in this area. First Marguerite of Angouleme who married Henry II d'Albret, the king of Navarre encouraged humanism and the renaissance in her court and welcomed many thinkers including Calvin the founder of protestantism in France. Her daughter Jeanne d'Albret became a protestant and continued to support it in Nerac. But Jeanne's son, Henry of Navarre became Henry IV of France, and was converted back to catholicism. That is the short version - the story was far more complex and included the massacre of Saint Barthelemy.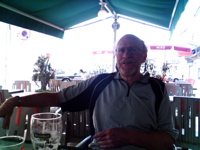 We were in Condom at lunchtime - there really is a town with that name. It has a big church with cloisters. A bar owner let us eat our sandwiches at his table as he wasn't serving food that day. We rode over lots of hills seeing sunflowers and sometimes vines. As it rained we sheltered at Lavardens - there is an enormous chateau there, which we would have liked to visit. Unfortunately they were charging 10 euros for entry because they claimed to have a Salvador Dali exhibition.
Quite a large proportion of this day's riding was on very minor roads with double chevrons indicating steep hills. We had to get off and push a couple of times. Pushing a fully loaded tandem is very difficult and George at the front pushed so hard that Jean who was trying to push from the back tended to get left behind.
There is a story that Napoleon decreed that all roads in France should be graded so that a pair of horses could pull a cannon up the steepest hills. This does seem to apply on all but the very minor roads, so where it's hilly, it's best to avoid the very tiny roads.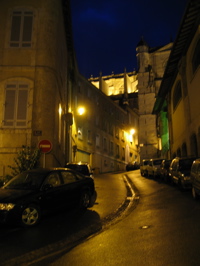 We arrived in Auch where our first impression was of the enormous 15th century cathedral of St, Marys in the main square. Unfortunately we were too late to look inside by the time we had sorted out the hotel. We heard that it has good stained glass windows as well as a large number of carved oak figures. We couldn't see a hotel anywhere in the centre and the police said the tourist office was closed, but it turned out to be open. We tried the chambre d'hote in the old centre, but the host was away on the hills, so his father very helpfully phoned the Hotel de Paris to book us a room on the other side of the river. We had to negotiate a very steep slope down to the bank of the river Gers.
The Hotel de Paris must have been very fine in about 1960, but appears not to have changed since then. It rather reminded us of the Jean Bart in Paris where we used to stay. The lady manager was very proper and when we asked for a room with a bathroom, she gave us a giant room on the fourth floor with several beds in it (no lift). We walked back into town and had a good meal in a Pizzeria under the old market hall near to the cathedral. The town centre is almost entirely pedestrianised with windy steep streets lined with old houses.
Distance today 79 kms. Route details - D258 Vianne to Nérac. D232 to Laserre. Minor road Moncarbeau. Cahuzac and into Condom. D654 Béraut, D232, D236 to Cézan, D214 to Lavardens. Minor road Lapierre, Castillon-Massas. D148 Duran, minor road into Auch.
Wednesday 7th July Auch to Francon
The day started dull, but without rain. However it was quite cold, we even had to use the windproof jackets. It was very hilly all the away apart from a very pleasant level section along what used to be a typical tree-lined road. We shopped at Saramon and then stopped at Simorre which has a large fortified church made of narrow red bricks and is a very nice village with pedestrianised streets.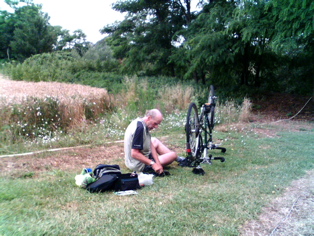 At Puymaurin we were trying to avoid a big hill and got directed by some one-way signs into a nice field beside someone's garden. The nearby house appeared to be being done up, but as no-one was about we decided to stop for a picnic in a nice sheltered spot by a ruined shed. After lunch George fixed the low gear which had been causing chain-wrap and instant dismount by both of us every time we tried to use it. As we left, we followed the one-way system across the front of the house and did wonder whether anyone was watching us - we thought we head the sound of a door closing.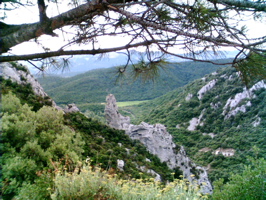 As we progressed south we began to see mountains in the distance - the foothills of the Pyrenees. We were glad it was cold as it was a hard ride. We had phoned ahead at lunch time for a place to stay - a chambre d'hote in Francon. When we arrived in Francon we cycled back and forth down the main street and couldn't see any of the usual signs for the chambres d'hotes. So we asked some friendly locals who directed us and even pointed out the house from the churchyard. We then set off down a steep hill and realised we'd gone too far, so phoned the lady whose daughter came out in a car to escort us back up the hill to the house.
The place had a nice big swimming pool where we had a good swim to cool us off after the ride. La Bastide is an old house but has been modernised beyond recognition. The hosts live in Mulhouse in the winter, but since retirement run this place in the summer. The host cooked one of the best meals we have had in a chambre d'hote: hors d'oeuvres (platter of cold meats, tomato, egg and anchovy salad), gratin of courgettes using Tomme cheese, Gigot d'agneau, cheese, clafouti of cherries.
Chambre d'hote Vidiane Duclaud. la Bastide, Francon. Tel 05.61.98.67.25.
Distance today 76 kms. Route details - D628 Auch to Pessar, then very minor road through Mazeres to Saramon. D12 via Simorre and Villefranche to Gaujan. D6 for a couple of kilometres, then onto minor road to Puymaurin. D78 to Anan, St. Frajou. SW on D3 for 3km then D52 to les Carreterres. D36a. D23, D52b to Benque. D8 Samouillan and Francon.
Thursday 8th July Francon to Foix
This ride was mostly on level roads, much easier than the previous two days. It was again a cold day and jackets were used again. We had hoped to book into the Hotel Lons at Foix which had been recommended to us by more than one person. It is in the centre of town by the river Ariege. But when we rang in the morning it was full up.
We stopped at Montesquieux-Volvestre to shop - a very attractive town with a big brick church and market hall and narrow streets.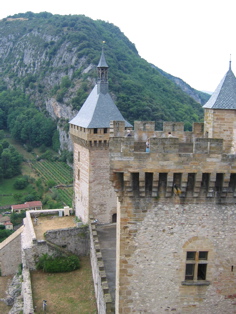 We bought picnic food and then went to the tourist office for help with accommodation in Foix. They were extremely helpful, but it was very difficult - there is a karting meeting in Foix. One hotel refused to let us have the last room unless we arrived by 3pm - impossible. We eventually booked into a Ferme Auberge 2 kms outside the town.
We stopped for lunch in a nice village called Puyvert by a river with attractive old houses on the opposite side.
We eventually arrived in Foix at about 4.30 and were amazed by the size of the chateau. It has three big towers and stands on an immense rock, dominating the town. We rode out to the Ferme Auberge - a lovely place with a beautiful view of the mountains from the bedroom window.
We went back into town to visit the castle, climb the tower and hear the history starting from the 10th century with local counts, protestants versus catholics, ..but we were too sleepy to take it all in. Drink in a bar and then a good meal in the Hotel Lons whose dining room has a glass extension right over the river Ariege.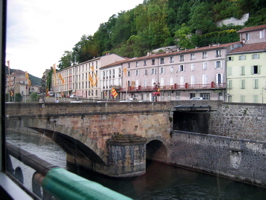 We had a buffet meal and then coupe normande for dessert (apple sorbet + calvados).
Then back up the steep hill for the night - good view of floodlit towers as we left.
Chambre d'hote Paulette BABY, Ferme de Caussou, 09000 COS. Tél. : 05.61.65.34.42
Distance today 75 kms. Route details - D8 to Benquet, over A64, Lavalanet. Minor roads to Bourruts. D40 to Montesquieux le Volvestre. D628 Daumazan, Sabarat. D31 to Camp Negre. D919 to St Jean-de-Verges. Then D2 and D1 on west of river right into Foix.
Friday 9th July Foix to Quillan
Our photographs of Quillan are available here.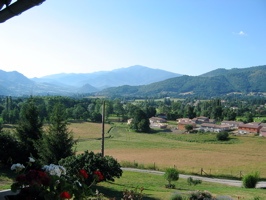 When we awoke, we admired the view from the window and then went down for a breakfast in the big dining room - all alone as no one else was yet up. We went nervously down the red road into Foix with lorries thundering down behind us as there was no overtaking.
Started on an awful road leading northwards out of Foix. Soon got onto the D1 to Lavelanet - a beautiful road with hills, rocky outcrops, fields above the main road, which we joined at Lavelanet. This road, the D117 is a red road with only two lanes and no cycle space, but fortunately not too busy - we couldn't see any alternative road to use. We had very good views all of the way. We had a picnic at Puyvert which has a big chateau on a hill.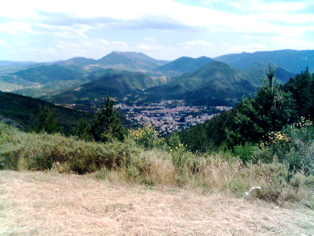 We were rewarded by a spectacular view from the col du Portel at 610 metres above Quillan. We then coasted down the hill into town. The tourist office told us about two chambre d'hotes, both with owners with english sounding names.
We knocked on their doors and ended up staying with Steve and Liz Surch in an old house in a narrow street. We had a big room with a balcony overlooking a pretty garden.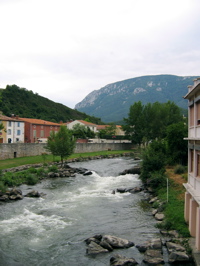 Quillan has an old centre with a network of narrow streets, lined with houses with red-tiled roofs. The town which is on the river Aude is surrounded by mountains.
We walked by the fast-flowing river Aude and admired the cincle plongeant (the bird that dives and swims under water). We passed by the US-owned but now closed down formica factory. It is occupied by workers and covered by signs including one that read 'apres Baghdad, Quillan'. We noticed that many of the shops have closed down - apparently this happened a few years ago when another factory (that made hats) closed down.
Basic but cheap meal in le Palace, a small cafe with a chinese cook, then back to the B and B where we were invited to join barbecue guests who were all english people who lived in the town. We were not very impressed by the amount they smoked and drank.
Chambre d'hote Steve and Liz Surch, 4 rue Racine. 11500 Quillan, tel 04.68.20.22.35
Distance today 61 kms. Route details - D1 to Lavelanet then D117 to Quillan.
Saturday 10th July Quillan to St Paul de Fenouillet
Our photographs of our route, St. Paul de Fenouillet and the Gorges of Galamus are available here.
Steve gave us an excellent breakfast including muesli. This was followed by a chat with Steve and Liz who filled us in with interesting information about the area and details of our forthcoming route. We chose to continue on the D117 so as to see the Défile de Pierre Lys - a spectacular gorge with rock arches and overhangs and a rushing river at the bottom.
We turned off to look at the village of Axat and then went into Lapradelle for shopping. On leaving Lapradelle we looked back to see the view of the chateau high on the rocks. The valley gradually widened out and then became flat with vineyards on either side. The high mountains of the Pyrenees could be seen to the south.
When we were with Philippe, he had booked us into Hotel le Chatelet, which he recommended. Fortunately we spotted it just as we were about to fly past and go into town to look for it. Mme Rauss gave us an excellent room with a porch for the tandem. It wasn't yet ready so we didn't get a key but left our bags in the porch.
We then went for a swim in the pool and had a picnic by the pool side. Then came the tricky bit - we went for our key and found the hotel closed for a long lunch - no reply when we rang the bell. The door to our porch was locked too, but we managed to climb into it via a very bushy flower bed. So we changed our clothes in the porch and climbed out again.
We set off to visit the town and the Gorges de Galamus above the town. This gorge is definitely worth a the big climb - which wasn't too bad without the panniers. This is a very deep and narrow gorge with the fast flowing river Agly at the bottom. People in helmets were jumping off rocks into the pools. We walked down a narrow path to the Hermitage which is in caves at a very remote spot partway up the side of the gorge. Back in St Paul de Fenouillet we visit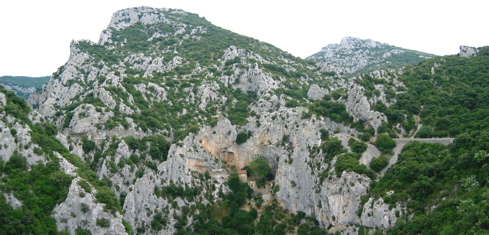 ed the Chapitre - an old tower and a nice museum of local history.
Back in the hotel, Mme Rauss explained that the door at the far end is always open and that guests should not enter via the bushes. We had a meal in the restaurant then went for a short walk which was interrupted by a shower of rain. This hotel is in an excellent setting surrounded by vineyards and with a view of the mountains.
Hotel Hotel le Chatelet, St Paul de Fenouillet. tel 04.68.59.01.20
Distance today 34 kms or 49 including gorge visit. Route details - D117 all the way ( a red road)
Sunday 11th July St Paul de Fenouillet to Vinça
Our photographs of Ansignan and our route to Vinça are available here.
We had been invited to stay with friends in Vinça. We planned a route directly across the foothills to Vinça - it looked steep on the map and it was - probably involved about 800 metres of climbing. Much the hardest ride of the trip.
Our first stop was at Ansignan to look at a 3rd century roman aqueduct which is still in use, both as an aqueduct and as a bridge spanning both the river and the valley on either side. A footpath uses the bridge which is in a tunnel under the aqueduct. We saw a couple walk over the top on the narrow edge of the aqueduct.
We continued via the village of Trilla through lovely countryside. Our next stop, after a very long struggle to the top of the hill was for a picnic above Trévillach. We still couldn't see Vinça. After lunch, we passed through the Cotes de Rousillon vineyards. Our last hill past Montalba le Chateau was not so big. We then went on a bridge over the big lake and into Vinça.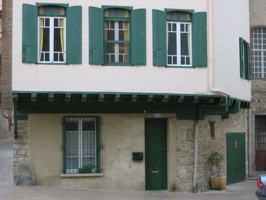 Our photographs of Vinça are available here
The McCloughan house is very easy to find, being opposite the church and having an overhanging first floor. Inside you go upstairs to a very large, high, timbered sitting room. Meade who had been doing lots of mountain walks appeared to greet us and Barbara and Hank were very hospitable.
They have a fine collection of paintings and prints - we chatted and then took a walk round the town. Each street has a special tiled plate for its Catalan name as well as a more ordinary sign for its french name. The centre has a good collectio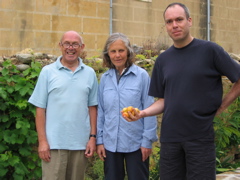 n of stone buildings, some of which have light red marble as well. We should have been able to see the Pyrenean peak of Canigou, but the cloud cover obscured it. We walked beside the small lake - it was too cold for a swim. We then went to see the McCloughan's nice walled garden with its vegetables, fruit and flowers.
A friend called Sean who lives nearby came for a meal - great talk and magnificent food and wine.
Distance today 39 kms . Route details - D619 to Ansignan, D9a to Trilla and Trévillach. D2 to Mantalba. D17 to Tarerach. D13 to Vinça.
Monday 12th July Vinça to Perpignan
Our photographs of Perpignan are available here
We awoke in our comfy bed and then looked out of the window at the view of the nearby Vinça houses with the mountains behind. After a relaxed breakfast, we bade farewell to Meade, Hank and Barbara and set off on our short journey to Perpignan.
We had no choice, but to ride for a few kilometres along the RN - fortunately there was a hard shoulder most of the way. We then took quiet roads to the outskirts of Perpignan. We were impressed to see a two-way cycle lane on the other side of the road - in fact we had it pointed out to us by a gesticulating motorist. But like all good things, it came to an end in fact it just stopped dead with no indication as to how to get back on the correct side of the road. We did manage to locate the centre of town and looked for a hotel nearby, based on recommendations from Mme Rauss from St. Paul de Fenouillets.
We fancied the name 'the Post and Partridge', so we tried that one, but although they had rooms, they refused to give shelter to the tandem. The next one we tried - the 'de la Loge' was very friendly and let us store the tandem beside the lift.
We had lunch in the square beside the Castillet - a chateau with big wide tower with machicolations, built from narrow pink bricks in the 14th century, originally as the gate to the town.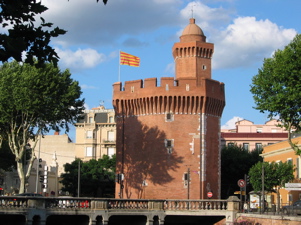 After lunch, we walked round the narrow streets of the old town, then went to visit the Citadelle - a big fortification that includes the big castle of the Kings of Majorca and was added to by Vauban, although his additions were subsequently removed. In the twelfth century the catalan kingdom included Majorca as well as parts of Spain and France. We visited an exhibition of mediaeval wood carvings in a very dark hall where you had to watch out for tripping over. Although we felt rather tired walking around, it was worth climbing the tower for the view of the sea and Canigou as well. Perpignan is very Catalan - orange and yellow striped flags everywhere, we even eat Fideou (vermicelli and sea food) as we had done in Barcelona.
Distance today 35 kms . Route details - N116 to Bou. D16 to Corbere. D615 Thuir. D612a to Coulouges and into Perpignan.
Tuesday 13 July Perpignan
A very windy day - due to the Tramontane. We enjoyed wandering around the large mainly pedestrianised old town with its sections of pink marble pavement and its Maillol statues. Right in the centre is the Loge de Mer: a very fine gothic building with fine sculpted window frames, originally used as an exchange and an office for the council. Next door is the Hotel de Ville with arcades and metal grilles. The old town is bounded by the river Basse. The riverside walkway is named Quai Vauban after the Louis 14th's military engineer who, amongst his works throughout France, added to the fortifications of Perpignan in the 17th century.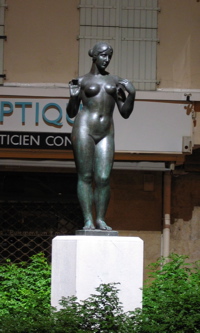 We took in an exhibition of Picasso etchings of real and imaginary animals and birds. We wondered beside the river Basse and went over to the railway station that Dali pronounced to be the 'centre of the universe'. We stopped in the waiting room to watch the Tour de France (without soundtrack - in case passengers miss train announcements?). The cinema in town was having a Patrice Leconte festival, so we picked a film called 'Tandem' which wasn't about our sort of tandem. But we enjoyed it a lot - it was about a pair of men travelling around the country in a car to perform radio quiz shows in small towns; the driver has nightmares about mad cyclists dropping their cycles off bridges onto the car; their show is to be taken off and we see how the adapt to their new circumstances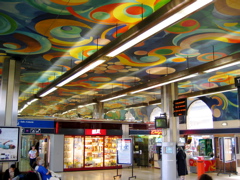 .
In the evening we followed a procession in mediaeval clothes carrying torches around the town.
They were practicing illuminations on the Castillet for next days celebrations. The lady in the tourist office advised us to stay another day so as to see them. She also directed to us a good shop for George to buy a pair of walking shoes to use when we get to the mountains - he only brings his sandals with their special SPD clips on our tandem trips.
Wednesday 14 July Perpignan to Collioure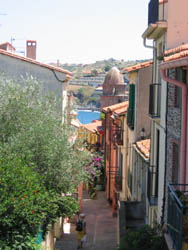 Our photographs of Collioure are available here
We set off towards the shore with a view to taking the coast road through the resorts of St Cyprien and Argeles. There was some promenade riding, but the streets were very crowded and we even experienced traffic jams, but 14th July is Bastille Day and a national holiday.
We cycled up a big hill into Collioure and in fact overshot our destination. So we walked round the Chateau Royal to get to the Auberge les Templiers where we had been booked in and had a rendezvous with our friends Xavier and Claudine. They had already arrived so we put the tandem in the hotel garage and went to the hotel bar where they soon turned up. We're in the hotel annexe opposite the post office, a quite place in comparison to the main hotel, which is on the busy pedestrian street next to the dried up river bed above the port.. This hotel has a collection of paintings donated by the various artists who stayed there in the past.
Collioure is completely overcrowded with tourists and the beaches are swarming. In spite of all this, it is still a very pretty little town with a big fortified Chateau Royal (another Vauban effort) between the two main beaches and the old port next to it with the river bed running right up the middle of the town,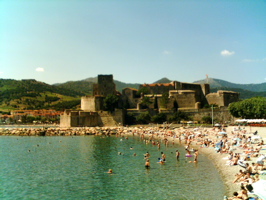 The old narrow car-free streets on the hillside above the town are very picturesque. There are posters round the town illustrating the work of Derain, Matisse and other artists who worked there in the past. Today's artists are trying to sell their work everywhere.
Jean was longing for a swim, but Xavier and Claudine were not too keen with the beach so crowded and they believe the mediterranean to be too dirty. So we went for a walk up the hill to Fort d'Elme by the wrong path, which took quite some time. We came back down past the old windmill and the art museum.
Nice meal in a little restaurant in a side street at base of old town.
Distance today 34 kms. Route details - dead reckoning route out of Perpignan via Avenue Guyemer onto the D22 and into Saleilles ten small road to St. Cyprien-Plage. Road next to beach and then D81 to Argeles-Plage. Coast road past Racou-Plage and into Collioure. We found a better way on return.
Hotel: Auberge les Templiers, 12 quai de l'Amiraute, 66190, Collioure. tel 04.68.82.05.58
Thursday 15 July Collioure
George, Xavier and Claudine planned a walk so we got up quite early and had breakfast in the nearby bar. They walked up to the Tour de Madeloc above the Convent of Notre Dame de Consolation and came down by another route on the road. It was a very hot day and there was no cover at all - quite different from the next two days in the Albères where we were protected by trees all day. The wall of the Tour de Madeloc provided welcome shelter during the picnic lunch. There were magnificent views from this vantage point over Collioure to the sea.
Jean remained in Collioure, swimming early before the crowds arrived, bought a sketch book and went sketching around the town - the chateau and the old sloping streets have great potential for drawing.
In the afternoon Jean walked up to see the art museum and the windmill. The permanent collection had been taken away to make space for a exhibition of work by Jean-Luc Jehan of space-related works such as a machine for occupying space and coral figures merging into galaxies. The other room contained an exhibition of spanish metallic-lustre ceramics from the middle ages. The museum building itself has a very pleasant atmosphere being set in a leafy garden.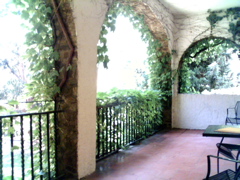 An unusual event of the afternoon was a demonstration in which soldiers in full gear decended from the top of the tower of the Chateau Royal and were collected in an inflatable boat - others were acting as frogmen under a camouflage net.
Before supper we went inside the church (Eglise Notre Dame des Anges) at the end of the beach, opposite the Chateau Royal. The tower of this church was originally a lighthouse. This church contains a giant baroque altarpiece carved out of wood and heavily gilded as well as a good number of other golden altarpieces..
A good meal together in a seafood restaurant in a little street at the lower end of the old town.
We took a walk after supper, going along the pier right to see the little chapel and then right on to the end where we enjoyed the sunset behind the hills beyond the town.
Friday 16 July Collioure to Laroque by car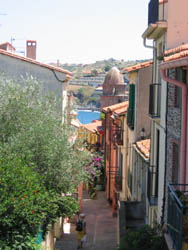 Our photographs of Laroque are available here
Xavier drove us the short distance to Laroque des Albères - a small village in the foothills of the Pyrenees. The hotel is in the main square right which contains a magnificent 200 year old plane tree and an ancient church. The square is up on the side of the hill with a very steep street leading down to the new part of the town - interesting to see cars gingerly approaching the slope and daring kids on bikes bouncing over onto it. Behind the square is the old town wall and a way up to a belvedere and castle.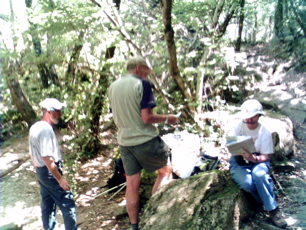 The tourist office had sent Xavier details of walks. We decided on the walk to the Font de Varnosa, returning via Font Simiots. All of the walks take the road up the hill beside the church and then go past a ruined mill following a stream and later a water channel. We were early enough to get well on our way in time to find a good place by a waterfall for a picnic.
Evening meal at restaurant on the square. The place looked smart and the menu interesting. However, the cook was too lavish with the salt, the onion soup tasting like the sea. Nor did the cook know how to cook cote d'agneau sufficiently for those that like it well done. But we had quite a chat with the owner who originated from the north of England, but had lived in France for many years and was married to a Spaniard.
Hotel: l'Hotel le Catalan, Laroque des Alberes. Tel. 04.68.89.21.06
Saturday 17 July Laroque
We had breakfast as soon as the bread arrived at the hotel and set off for a walk to the Puig de Neulos, the local summit at 1256 metres - the highest peak in the Albères range. We set off the same way as before, soon turning off onto the shoulder to the left of the central valley. Although the climb was about 1100 metres, the paths were all under the trees in the very fine beach woods that cover these hills. This protected us from the sun which was really very hot. In spite of the steepness of the path, we arrived at the Pic Neulos without too much difficulty and sat for a short rest by the summit post in a very strong wind.
We came down by a tarmac road and soon found a sheltered place for a picnic. We decided to return by a route that joined the one from the day before as it should be less steep and Jean is useless at descending steep slippery slopes. At one point, due to our vastly different rates of descent, we got separated but then found one another again well in time to return to the village together.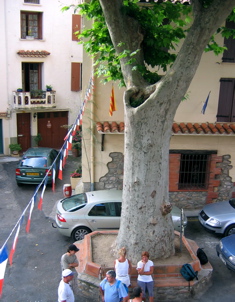 The route returns by the rue de l'Eglise. This little church is built into the side of the fortifications. A friendly caretaker sits outside on a chair most of the time. On the inside is a big ornate gilded altarpiece similar to the one in Collioure.
The hotel manager gave us permission to have a picnic meal on the tables outside the hotel. So we went to the local shop and bought a good feast. We sat in the eating our meal and square watching the locals go by.
Sunday 18 July Laroque to the bus pick-up point
We went to Collioure in Xavier and Claudine's car, where we retrieved the tandem and we bade them farewell. Our destination was the pick-up point for Bike Express at Rivesaultes to the north of Perpignan.
George was determined that we should keep closer to the coast after mounting the hill out of Collioure. This was achieved by following a VTT and pedestrian track as far as Argeles Plage - it did avoid the busy coast road but in some places was rather rough and where there was sand we had to get off. The road to St.Cyprien-Plage was less busy than before. We then got onto the road that runs for 9 km between the big Etang de Canet and the sea. There is a two-way cycle track beside the road all the way with a narrow area of sand and sedge leading to the sea. This was a very pleasant ride.
We passed through Canet-Plage (the beach for Perpignan) and on to St. Marie-Plage where we stopped for a swim and a picnic lunch. It was a very hot day and the cool water was enjoyable and the swim suits soon dried out on the top of the panniers.
We used small roads as far as we could, but eventually had to join the big red road in order to get to the pick-up point which is by the péage for the entry to the Autoroute.
Route details- Coast road out of Collioure, then at Racou-Plage take VTT track to Argeles Plage. D81 along coast to St. Cyprien-Plage. D81a to Canet Plage. D81 to St. Marie Plage and then inland to St. Marie and D11 to St.Laurent. D11 to St. Hipployte and then ontoD83 (red road) and continue over N9 to péage. Distance today 50 km.