George and Jean's Tandem Tour 2003:
Saintes to Strasbourg
In the year 2000, we rode from north to south across France from St. Malo to Montpellier. This year we decided to try going from west to east. As usual we aimed to avoid mountains and to follow rivers or canals wherever possible. We picked Saintes as a starting point for a route between the Loire valley and the Massif Central. The eastern part of the route was determined by our desire to see the Franche Comté and Alsace, in particular Besancon, Colmar and Strasbourg. We took the European Bike Express to Saintes on their Atlantic route. They picked us up at Strasbourg, which is on their Alpine route.
At the beginning of our journey we followed the Charente through the Poitou-Charentes region. Then we were in the Berry (or Centre) region and crossing rivers such as the Indre, Cher and Vienne that flow into the Loire to the north. We crossed the Loire as we entered Bourgogne at Nevers, then skirted the Morvan mountains on the way to Autun. We then followed the Doubs (and the Rhone-Rhine canal) via Besancon and on through most of Franche-Comté. In Alsace we continued to follow the Rhone-Rhine canal as far as Strasbourg.
The red circles on the map are links to pages with extra photos for some of the places we visited.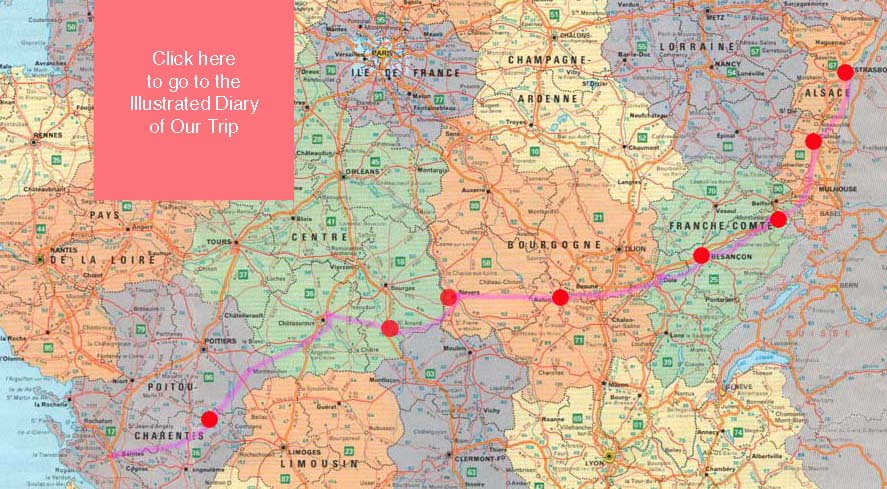 ---
Copyright: George Coulouris & Jean Dollimore 2003