GC's Agent's Brochure 1953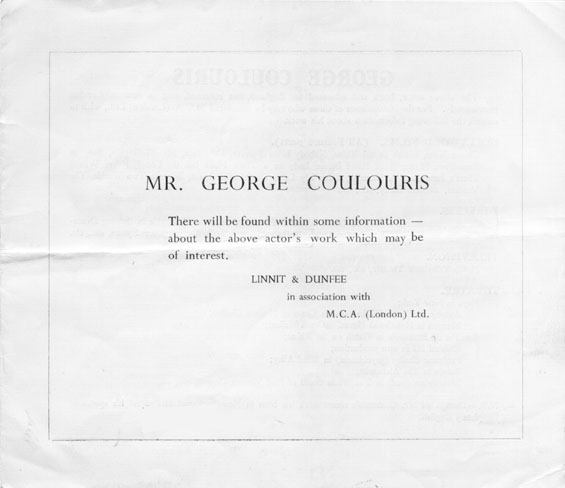 Page 1 - Curriculum Vitae
GEORGE COULOURIS
Thc above actor, born and educated in England, has returned, and is now in London permanently. For the convenience of those who may be interested M.C.A. (London) Ltd., wish to submit the following information about his work.
HOLLYWOOD FILMS. (All Feature parts).
Citizen Kane, Watch on the Rhine, Nobody Lives Forever, California, Mr. Skeffington, Song to Remember, Master Race, Hotel Berlin, Lady on a Train, None but the Lonely Heart, Where There's Life, Joan of Lorraine, Sleep My Love, Confidential Agent, Between Two Worlds, The Verdict, Beyond Glory, etc., etc.
WIRELESS.
Guest appearances on Theatre Guild, Theatre of the Air, etc., etc. Title role in Bulldog Drummond Series for 2 years. Member of Orson Welles's Mercury, Radio Company for 2 years, etc., etc.
TELEVISION.
Philco Television Theatre, etc., etc.
THEATRE.
Plays in New York:
Antony in Orson Welles's Julius Ceasar in Modern Clothes;
Mangan in Heartbreak House. (Orson Welles);
Tec de Brancovis in Watch in the Rhine;
Richard III in own production;
Professor Shelby (psychiatrist) in Blind Alley;
Subtle in The Alchemist;
Irish Priest (lead) in The White Steed of Paul Vincent Carroll, etc., etc,
N.B.Though all Mr. Coulouris's recent work has been in New York and Hollywood, his speech is completely English.
---
Page 2 - Quotes from the notices for GC's 'Tartuffe' at the Bristol Old Vic, 1953.
He has just concluded a season at the Theatre Royal, Bristol, with the Old Vic Co., playing Tartuffe with them at the Lyric Theatre, Hammersmith, in Miles Malleson's adaptation of the Molière play. The following are some of the London press comments: -

"George Coulouris is magnificent." P. L. MANNOCK, Daily Herald.

"If during the course of a play, I am fired by a desire to rush up to the stage through the pass door, and to throttle the villain, then I suggest that the actor is doing his work well . . . George Coulouris has indeed some of the awful grandeur of Tartuffe . . . He is larger than lifesize . . . he darkens the Parisian sun." J. C. TREWIN, Observer.

"It is greatly refreshing to see Tartuffe, that universal hypocrite, so magnificently drawn on the English stage. George Coulouris gives him an unctuous plausibility which seems to have in it something of all the sanctimonious rogues one has met in life and fiction." W. A. DARLINGTON, Daily Telegraph.

"Best tribute is the plain fact that immediately Tartuffe comes on to the stage latc in the first act, the play takes on an altogetlicr fresh life and vigour." HAROLD HOBSON, Sunday Times.

"'Tartuffe looms out at us,' wrote Lytton Strachey, 'with the kind of horrible greatness that Milton's Satan might have had, if he had come to live with a bourgeois family in seventeenth century France' The handsomest compliment I can pay George Coulouris's Tartuffe is to say, that besides reminding me of Molière, he more than once reminded me of this description. What a hypocrite is here. That broad face, loathsomely benevolent, as white as a lump of underdone fat, and scored with lines of reproachful piety, the unctuous voice and the ready stoop of the born timeserver. Note also the masterly repose when other people are speaking of him. Mr. Coulouris commands one of the most difficult arts of the stage: to do nothing." STEPHEN WILLIAMS, Evening News.

"Only one of the players . . . George Coulouris as Tartuffe gives a performance that has a real sense of character, and which belongs to the realms of real vital life. Mr. Coulouris with his sauve gestures, his quietly persuasive voice, his unctuous bearing, catches something of the essence of Tartuffe. A particularly striking point of his performance is its faint tincture of dignity, brought in as if to indicate that any man who is great in any way-even in villainy-must have some strength above the average. Mr. Coulouris's general style and tone of acting contrive to belong to the world of both Molière and Malleson, and yet to remain consistent and compelling. J. P. MARRIOTT, The Stage
---